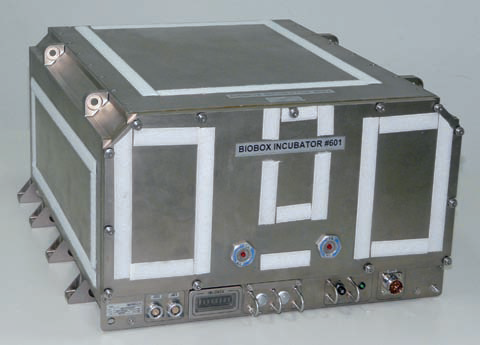 Aim: BIOBOX is an ESA programmable, space-qualified incubator for biology research in space. It offers a controlled thermal environment and allows fully automatic execution of biological experiments, with limited use of commands during orbital flight. To rule out flight effects of weightlessness, an in-flight 1g centrifuge is installed in BIOBOX, permitting 1g control experiments to be conducted on-board the spacecraft at the same time of samples exposed to the zerog environment inside the incubator.
Several versions of BIOBOX incubators have been developed till now. BIOBOX is a joint development of Astrium and Kayser Italia under ESA contract.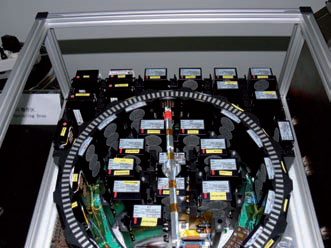 Hardware features: The in-flight commanding capabilities of BIOBOX are primarily used to back up the on board automatic operations that initiate the experiment sequence or to control the centrifuge activation and speed, as well as to change  the temperature set point of the incubator modes, allowing for a certain control of the facility power consumption.
Telemetry data are continuously available and mainly used to monitor the health of the BIOBOX and its response to  commands received.
Within certain environmental conditions the internal incubator temperature can be selected to any value between +4.0 °C and +37.0 °C. All experiments are accommodated on the so called "Experiment Platform" that is a fully autonomous subsystem extractable from the incubator. That approach allows dealing with different mission scenarios, making possible a very late access to spacecraft integration. This aspect is crucial for biological experiments.
The latest version of BIOBOX has some additional features like an increased number of experiment containers positions, a double incubator driven by a single electronics control unit. Experiment containers are now controlled by a centralized timeline that is responsible for their actuation. 
The temperature profiles and the experiment timeline of the two incubators can be programmed independently in accordance with the experiment needs. The new dimensions allow BIOBOX use inside a standard ISS locker besides Russian capsules.